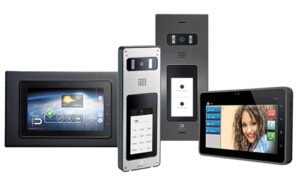 Stanley Security Products has announced it has secured the exclusive UK distribution rights to the InfinitePlay IP based video door entry system, which will join the existing PAC Access Control and GDX Door Entry range.
InfinitePlay is a 100% IP based plug and play system that doesn't require sophisticated networking knowledge, ensuring all security installers and electrical contractors can readily fit it as a new standalone system or add it to an existing IP based door entry system for a cost-effective extension option.
According to the company, running over an IP network means there are no limits to the distances between system components and no limit to the number of devices that can be incorporated within the system. As a result, InfinitePlay can be used on a single residence or an apartment block through to multi-site applications.
Key components to the system include a wall mounted 7" touchscreen LCD monitor built on the Android operating system and a choice of vandal resistant entry panels with a variety of finishes. The keypad comes with a 5 megapixel camera while noise cancelling technology built into the microphone to ensure background noise in kept to a minimum.
For installers, InfinitePlay uses existing IP network infrastructure, CAT5 cable and RJ45 connectors for a potential reduction in cabling costs. Furthermore, with the exception of door opening devices, system devices are powered by the IP network using Power over Ethernet (PoE) technology, so do not require connecting to the mains.