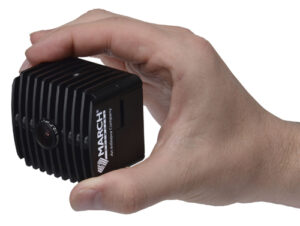 March Networks has introduced the MegaPX ATM camera. The MegaPX ATM camera is a self-contained, covert IP camera with High Dynamic Range (HDR) image clarity. Built for easy installation in ATMs, the ONVIF Profile S compliant camera is designed to capture video in all lighting conditions, enabling banking investigators and the police to clearly identify faces and other distinguishing features.
"Whilst ATM related fraud incidents fell last year, related losses and losses through both skimming and ATM physical attacks have increased in Europe, so banking organisations are relying more heavily than ever on IP video technologies that can provide clear video evidence to accelerate investigations," said Net Payne, Chief Marketing Officer, March Networks. "This new camera offers financial institutions a way to capture better video at ATMs and advances an area of the banking surveillance ecosystem which, until now, has not kept pace with technology improvements."
The MegaPX ATM camera combines HDR and low-light capabilities to capture clear video in high-contrast lighting, such as the direct sunlight and near-dark conditions that ATMs can be located in at different times of the day. Available with a 2.8mm standard lens or 3.7mm pinhole lens, the camera's field-of-view records ATM users from the waist up rather than just capturing faces to provide more video evidence. In addition, a feature auto-corrects images recorded behind the tinted glass enclosures present in many ATMs.