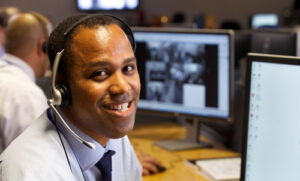 Remote Video Response (RVR) has completed its move to Nottingham to co-locate with Custodian Monitoring Services. RVR also recently achieved a significant milestone, recording its 1 millionth operator-managed alarm since its launch 15 years ago.
"There is clear logic in having the CCTV monitoring business RVR and the intruder-alarm monitoring business Custodian under the same roof," Colin Walters, general manager, RVR, said. "The commonality of our installer and end-user customers and the ability to share resources – including people, technology and monitoring platforms – improves our ability to effectively serve our key segments. In particular, the co-location enables us to leverage the capabilities of dedicated administration and sales teams."
Technological advances enabled the co-location by freeing up space within the Nottingham monitoring centre to allow the integration of the CCTV and intruder alarm operations to become possible. The move also will allow installers to access and manage their portfolio from any PC, tablet or smart phone, live, any time of the day or night. They can update information remotely, leading to further enhancement in false alarm management. One of the key benefits, for example, is the opportunity to manage keyholder information through an online portal.
Previously, RVR used its own platform. Now, both intruder and CCTV alarms can be managed on the same platform, with a common reporting style and log that enables installers to have complete visibility across their entire client base. It also has the ability to apportion separate alarm signals from a specific site to a single operator.
"Our customers will see other benefits such as our working closer with another related business, Mentor Business Systems, to provide a fully integrated software solution that enables keyholder changes to migrate seamlessly to their CASH system and out-of-hours calls from their Custodian answering service to go direct to their engineers' PDAs – in effect giving them the ability to better manage all aspects of their business," Walters said.
New staff have been recruited at the Nottingham location, and RVR maintains its status as an official National Open College Network (NOCN)-accredited training school. "We will also be looking to expand still further, which is why the additional space will be important," said Colin.