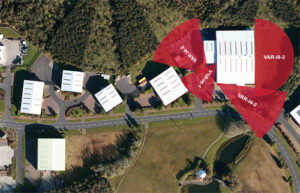 Raytec has unveiled the Raytec Design App which makes lighting design for video surveillance applications easy and simplifies the product selection process.
Through the new app users can access their site on Google Maps and plot the exact coverage from selected Raytec illuminators. Lighting design details can be saved as a project, edited afterwards and emailed for future reference.
"Detailed lighting design plans usually come into the picture at later stages, this free app helps customers quickly gather an initial idea of the lighting requirements for their site." says Mike Jamieson, Director at Raytec Systems. "And compatibility with the Apple iPad and Android tablets mean lighting designs are now easily accessible and offer enhanced mobility for security professionals on the move."
The app is available as a free download on the App Store and Google Play.