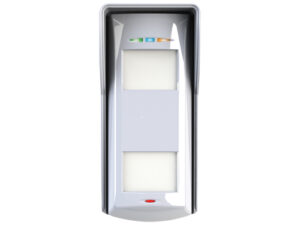 Pyronix has announced the first wireless low-mounted external volumetric detector to be added to its range. The XDL12TT-WE combines Pyronix Enforcer two-way wireless technology with external detection protocols, including: Dual-Vision Pet Immune, Tri-Signal Detection Logic and Gaussian Frequency Modulation (GFM).
Pyronix Marketing Manager, Laurence Kenny, said: "When it comes to perimeter security, it is literally the first line of defence for any property. Large fences and locked gates can be effective deterrents, but not always the most practical or secure method.
"What is clear is that perimeter protection can play a vital role in deterring the intruder from attempting a break-in. This is why Pyronix has analysed external environments and the requirements for reliable and stable detection, to deliver an effective, easy-to-install wireless solution."
The XDL12TT-WE is IP55 weatherproof rated and consists of two independent passive infrared (PIR) sensors and one microwave (MW) sensor in one common housing and utilises Tri-Signal Detection Logic alongside Tri-Technology, whereby all three sensors must be activated sequentially in quick succession to create an alarm. This heightens the detector's immunity to false alarms and ensures optimum detection performance in external conditions.
Along with Tri-Signal Detection Logic and TT, Pyronix has also pre-empted potential false alarm issues from the presence of pets or swaying vegetation, by including Dual-Vision Pet Immune and Anti-Sway Analytics features. The two PIRs of the XDL12TT-WE have a dedicated volumetric field of view, with the top PIR detecting outwards and up, while the bottom PIR detects outwards and down, without either crossing the central horizontal plane between them. Anti-Sway Analytics digitally filters the environment to distinguish between the movement of trees and plants from the movements of an intruder, so that false alarm activations are kept to an absolute minimum.