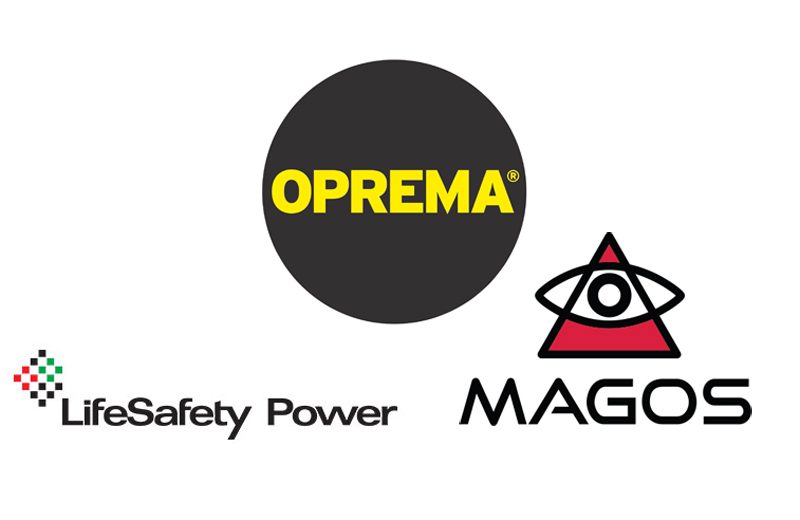 Distributor Oprema has announced two new technology partnerships naming LifeSafety Power and Magos as new additions to the portfolio.
LifeSafety Power, an Assa Abloy company, has developed access control power solutions with remote monitoring capabilities, providing modular AC, DC, and PoE systems.
LifeSafety Power systems integrate access panels and power modules into a streamlined enclosure, featuring pre-engineered, prewired services that can be standardised across the enterprise.
John Olliver, Senior Vice President of Sales and Marketing at LifeSafety Power commented: "LifeSafety Power is excited to bring the advantages and flexibility of our product line to Oprema and its customers. The installation community now has an array of cost-saving and intelligent power solutions available with the addition of LifeSafety Power to the Oprema distribution family."
Gareth Williams, Sales Director at Oprema commented on the partnership: "We are delighted to welcome LifeSafety Power to our product portfolio, we look forward to stepping into the enterprise level access control market and extending the services we offer to our customers. I'm excited to see what the future holds."
Secondly, Oprema has announced a new partnership with radar technology company Magos. The company specialises in low power radars that can be integrated in existing VMS, PSIM and other control software. Magos products provide automatic PTZ slew-to-cue for an end-to-end cost effective and easily maintained solution.
Eric Hampel, Managing Director at Magos Systems Europe commented "We are very happy to start our cooperation with Oprema. In this type of security project business, the flexibility and competence of truly value-added distributors is crucial."
Matthew Epps, Managing Director at Oprema commented on the partnership "We are thrilled to welcome Magos in to the Oprema product portfolio. Magos products will enhance our existing offering to customers within the security and perimeter protection landscape. I look forward to working with the team at Magos and securing some very interesting projects in the coming months and years."