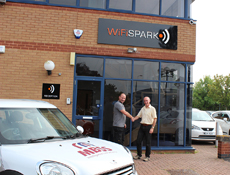 WiFi SPARK, the managed WiFi provider, has appointed Marsh Barton Security Services (MBSS), to provide a security package at its new headquarters in Marsh Barton. WiFi SPARK has recently relocated from offices in Newton Abbott where staff were split among several units, to a larger property in Cranmere Court, Marsh Barton.
The new premises that will be the workplace for over 30 members of staff will be secured at all times with MBSS supplying services including key holding, CCTV surveillance, intruder alarms, access control and security patrols.
Access and control systems will be used in order to limit unauthorised access to the building and key holding and CCTV mean that MBSS specialist staff will be on hand at any time of day or night, should there be any suspicious activity and patrols will reduce the likelihood of any break-ins.