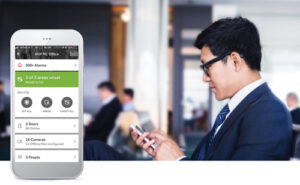 At IFSEC 2018, Honeywell will be demonstrating its MAXPRO Cloud platform – the integrated security offering designed specifically for small-to-medium-sized (SMB) businesses
MAXPRO Cloud is a flexible and scalable platform which enables customers to achieve more efficient safety and security, reduces IT infrastructure costs, and streamlines operations by empowering small-to-medium business owners to efficiently operate and access data from their access, intrusion and video systems. For example, a business with multiple sites can use MAXPRO Cloud to make decisions on access control remotely from a smartphone, instead of having to spend time accessing a desktop computer at one particular location. In addition, because the system is cloud-hosted there is no additional server or software to buy and manage.
MAXPRO Cloud gives installers the opportunity to create new recurring monthly revenue from cloud hosted systems, while providing an integrated security platform with lower installation and service costs.
With remote access management, SMBs no longer have to face costly downtime waiting for the correct person with the key to open facilities. Enabling customers to remotely monitor their environments through the cloud can protect their critical assets through a cost-effective solution.
At IFSEC, Honeywell experts will be on-hand to demonstrate how MAXPRO Cloud can enhance your service offering and provide real benefits for your customers.
Stand B400