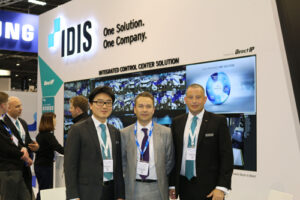 IDIS and Swift Fire & Security announced and signed a strategic partnership agreement during IFSEC International, at London's ExCel.
Installing over £1.4M of security systems a month, Swift Fire & Security wanted to increase profit margins by streamlining the networked surveillance systems they offered to just three manufacturers.  Swift recognised that some IP manufacturers were delivering poor technical support and regularly had diluted product availability, while some systems were proving difficult and complex to implement and commission.
In early 2014, Swift began evaluating a number of network surveillance solutions including DirectIP from IDIS. Tony Bates, Security Director at Swift Fire & Security, commented: "We carefully evaluated IDIS DirectIP against a number of other IP systems and quickly realised that it offered us what we were looking for in terms of functionality, performance and simple plug-and-play installation as well as providing every element required to implement a complete network surveillance solution.
"Having made our final decision to make DirectIP one of our network surveillance offerings, it made perfect sense to sign the official partnership agreement at IFSEC."
Jamie Barnfield, Senior Sales Manager at IDIS Europe, added: "We're thrilled to sign and announce this agreement at IFSEC with the atmosphere and excitement of the show. One of the top security systems integrators in the UK, Swift Fire & Security is also one of the most established and well-respected in the industry.  To have the Swift team validate IDIS and DirectIP here on the IDIS stand at IFSEC, is truly a great honour. We're very much looking forward to supporting and working with the Swift team moving forward."
Pictured: Brian Song and Jamie Barnfield of IDIS with Paul Mather of Swift Fire & Security