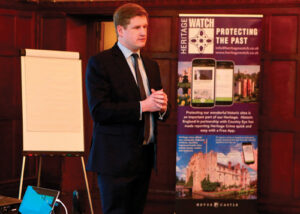 Heritage Watch Kent has launched a 24-hour, 7 days a week, helpline to support heritage assets across the county with sharing information on heritage crime and suspicious behaviour. The initiative will be run by Ward Security and will have links to the Kent Police Rural Office, Sussex Heritage Watch and Essex Heritage Watch. The 24/7 Helpline will also benefit from Ward Security's links to The Cross-sector Safety and Communications partnership (CSSC).
David Ward, CEO of Ward Security announced the 24/7 Helpline at the Heritage Watch Conference 2019 hosted by Thanet District Council. David Ward commented: "Ward Security is proud to sponsor the 24/7 Heritage Watch Helpline which aims to establish a good communications network to inform and advise on heritage crime and suspicious behaviour. We already have sign up from Leeds Castle, The Historic Dockyard Chatham, Hever Castle, Canterbury Cathedral, Historic England, Countryeye, Crimestoppers in Kent and Neighbourhood Watch."
In his opening speech at the Heritage Watch Conference Kent Police and Crime Commissioner Matthew Scott set the scene for the heritage crime situation in Kent and provided his encouragement for the 24/7 Helpline.
"The budget I set last year meant Kent Police was able to double the size of its specialist Rural Policing Team. That allows us to better protect our rural communities. Preventing crime from taking place is our aim but when something does occur it allows us to respond. I have listened to the concerns over reporting crime over the past few years. Countryeye has made great efforts in this regard and the launch of the 24/7 Heritage Watch Helpline allows us to respond to the challenges. Ward Security is to be commended for the extra support in the 24-hour Helpline to protect our heritage and collaborate."
Inspector Dave Smith, Rural Task Force, Kent Police added: "Communication of incidents – attempted burglaries, terrorism, suspicious behaviour – is key and the Heritage Watch Line will be a real asset in this regard. It is important to highlight that the Heritage Watch 24/7 Helpline is not a crime reporting service and should be used in addition to 101 or online reporting."