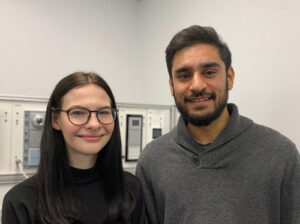 Gira has welcomed two new team members to its UK brand and business; Jessica-Lee van der Walt joins as Project Sales Representative and Chris Pereira is the new Technical Support Assistant.
Jessica-Lee comes with a strong background in account management and will be working with Richard Udell, Sales Manager- Distribution and Projects, to develop the Gira project business in London initially, and with scope to offer nationwide support as required. With a range of experience in the international market for toy manufacturer Jellycat as well as a solid grounding in projects at Hansgrohe in London and in South Africa, Jessica brings her network of contacts and experience in sales and project management to Gira UK.
Chris will be joining the UK Hotline department, and working alongside fellow Technical Support Assistant, Daniel Evans, to provide additional support and practical know-how to Gira customers and System Integrator Partners on all things technical. Chris has a background in the electrical industry, with expertise in wiring installations, lighting and maintenance.
Mark Booth, Managing Director at Gira UK says "We're delighted to welcome two new members to the UK team, bringing to our business a sound knowledge of project sales, account management and technical support to broaden the depth and breadth of our customer service in key parts of our business."