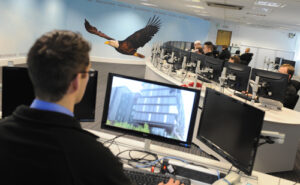 Farsight Security Services has upgraded its central station monitoring software to the latest SureView Immix CS platform, also known as 'Immix Cloud'. The upgrade has been introduced to provide clients and installers with a range of benefits including:
– Access to the Immix app for viewing of live cameras, 'push notification' of critical events and the Immix web portal via a smartphone or tablet
– The ability to upload sites in bulk during the commissioning process, saving installers time
– Compatibility with the majority of security systems
Malcolm O'Shea-Barnes, senior operations manager at Farsight, explains: "The upgrade to the latest SureView Immix CS platform has a fantastic range of benefits for our clients and installers, as well for the operators at Farsight. Our operators are now able to work even more efficiently. One of the biggest benefits is the browser-based interface that makes it easier for them to administer updates. Previously these updates had to be applied on a machine-by-machine basis, now they can be applied globally. This also makes the machines more stable. No client software runs on the PCs at our central station, making them less susceptible to 'freezing'. This allows operators to work without disruption, processing alarms faster than ever.