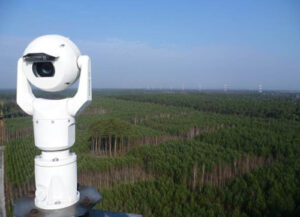 Bosch cameras are keeping a watchful eye above the canopy of Poland's Czarne forests looking for the first signs of fire.
Once a forest fire strikes, timing is vital to bring it under control. Unfortunately, such blazes are usually only detected once they have already spread over a large area. To ensure the timely detection of smoke, the forest inspectorate of Poland's densely forested Czarne Czluchowskie district turned to Bosch for an IP camera-based solution.
With full 360° rotation pan and 290° tilt control, two Bosch MIC IP 7000 cameras were all that was required to cover the district's entire 25,000 hectares of forest for signs of fire. Both cameras display images in conjunction with coordinates. Once smoke is spotted by surveillance staff, a 30x optical zoom lens enables confirmation of a fire. This ensures a timely response to a blaze, thus greatly limiting damage.
The camera units, mounted on 60-meter-high fire masts, provide full awareness even in the most extreme weather conditions, and thanks to rugged housing can operate in temperatures as low as -40°C or as high as +60°C. With a High Dynamic Range (HDR) of 120 dB, the cameras can provide images of both bright and dark areas. High winds are particularly challenging and can distort images, however the Bosch MIC IP 7000 camera incorporates an image stabilisation algorithm, which ensures reliable images, and is engineered to withstand high-impact or continuous low-frequency vibration.