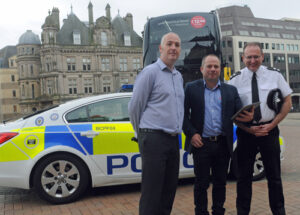 Victoria Square in Birmingham on 2nd July was the setting for a first as the BBC's Crimewatch Roadshow came to town to see the first trial of a live CCTV video stream direct from public transport, thanks to technology supplied by Vemotion.
The trial was commissioned by Centro and The Safer Travel Partnership to make public transport a safer experience. As part of the test, a pickpocket was caught 'live' on camera on the top deck of the test bus, and the control room was able to initiate a rapid response unit to intercept the bus and arrest the pickpocket before the offender has even realised they have been caught.
Stewart McCone, CEO of Vemotion said: "It was the first trial of a live stream used in the public transport environment in this area and is clearly the shape of things to come. We know the technology works, but this is the first major trial to prove it is viable in a realistic real life situation."
The story began back in February 2015, when Stewart was invited by Centro Crime Reduction Manager Mark Babington to deliver a presentation on mobile CCTV to the group. Mark had brought West Midlands Police and British Transport Police into an intelligence led operational team, reducing crime on the network by two thirds – but work remained to be done, hence the invitation to Stewart.
Stewart demonstrated the role effective video transmission can play and Mark and his team commissioned the trial in conjunction with British Transport Police, represented by Inspector Lee Gordon, who spoke to the Crimewatch team on behalf of the Safer Travel Partnership.
"As the Safer Travel Partnership has faced the realities of austerity, we have developed an innovative approach which has seen an increase of frontline staff whilst reducing revenue expenditure by 25%," said Mark Babington. "Mobile CCTV does have a role to play and I would like to thank Stewart for coming and giving us the benefit of his insight and know-how. Mobile CCTV is one of the ways we can look at reducing expenditure by doing more for less and while bus shelter cameras proved a great success, driver and passenger safety will always be prime considerations as part of our Public Transport Crime Reduction Toolkit."
"It is no secret that  everyone wants to see the number of people using public transport increase, but in order to do that it must not just prove itself reliable, it has to be seen as safe too," added Stewart. "This technology is a powerful reassurance and makes clear that offenders can be seen, intercepted and dealt with in real time. They will have to think twice – and hopefully people will then think twice before using the car and consider public transport instead. It's a win-win for all concerned and we are looking forward to developing the initiative further."
Pictured (L-R): Centro Crime Reduction Manager Mark Babington, CEO of Vemotion Stewart McCone and Inspector Lee Gordon of the Safer Travel Partnership