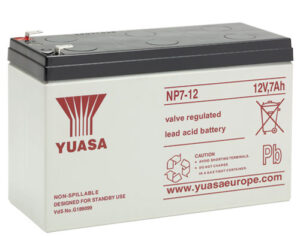 Effective security depends on reliable backup power, so when the power is interrupted even the most advanced security and fire systems are only as good as the batteries supporting them.  With a large number of different battery manufacturers available, it can be difficult for industry professionals to know the difference between products.
Matthew Jordan, Technical and Quality Assurance Manager at Yuasa Battery Sales (UK) explains: "Two of the most important factors for a standby battery are capacity and float life. With many different brands to choose from it is important you are 100% confident the product you are using will deliver long-life, and more importantly, reliable performance at the critical moment.
"It's not uncommon for cheaper brands to simply assemble bought-in components during manufacture and this can significantly compromise quality."
When choosing a battery for security and alarm systems it is important to consider a number of key factors. The most obvious being the dimensions and fitting of the battery, which will be dictated by the fire or security system. Installers should also carefully check the system's voltage and amp requirements.
Other important considerations should include recovery from deep discharge, energy density and the presence of a low pressure venting system which will ensure no gas can build up inside the unit if severe overcharging occurs.