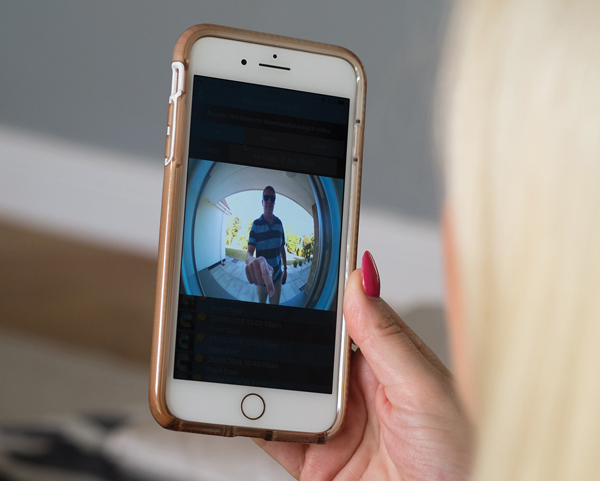 With holidays finally back on the agenda, many homeowners will be leaving their property unoccupied for the first time in months. Sumier Foster-Shah of ERA, shares an insight into how smart security systems and app-based surveillance can provide protection and peace of mind
As the nation's vaccine rollout continues apace, families are making the most of the summer season by booking much-needed holidays, with many popular destinations across the UK reporting near-capacity occupancy levels. For many homeowners, this will be the first time in nearly 18 months that they have left their property for an extended period of time. And for those who have taken advantage of the government's Stamp Duty Holiday and moved house during lockdown, this may also be the first time they are leaving their new property unattended.
This return to more normal pre-Covid lifestyles and routines may prompt many homeowners to re-evaluate their property's security. The nation has a newfound appreciation for our homes and their contents, and many householders will have made home improvements or invested in high-value items, all of which they will be keen to protect, when they once again go on their travels. For owners of new homes who have inherited security systems from the previous owners, they may have limited understanding of how they work or whether they meet their specific security and lifestyle needs.
For customers in these situations, smart app-based security systems offer many benefits that will deliver protection not only for the summer season, but for many years to come.
The majority of homeowners will be familiar with alarms and PIR motion sensors, interior and exterior cameras, floodlight cameras and video doorbells. What is newer – and will be particularly welcome at this time – is the ability to manage, access and view footage from these devices in real-time via an app. Smart security ecosystems allow these individual devices to work together to protect every element of a property, from the perimeter and interior to the garden, shed and outbuildings. By integrating these devices into one system via an encrypted network, smartware can facilitate more effective and comprehensive real time surveillance of a property at any time, from anywhere in the world.
Here, smartware is supporting homeowners in taking a proactive, rather than reactive, approach to security. A smart alarm system transmits alerts and notifications from every device to users via an app, as and when motion is detected. There are huge advantages to individuals being able to remotely view video footage from each internal, external, floodlight or doorbell camera as it happens. This provides the opportunity for an intervention before an intruder gains access to a property. Many smart devices feature two-way talk capability, which can be used to alert, communicate with and deter potential intruders.
App-based monitoring also allows homeowners to identify security weakpoints, even once they have left their property.
Read the full opinion piece in the August 2021 edition of PSI magazine