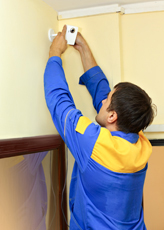 In a job market that has been increasingly led down the IT path, there appears to be a shortage of security installers coming through.
There will always be lawyers, doctors and vets being trained up and there appears to be no shortage of hair, nail and beauty students but engineering, and specifically, the next generation of security installers is looking a bit thin on the ground in terms of numbers.
Even those 18 year-olds who have the choice of starting a career or going into further education seem more attracted to studying for a degree that will serve no purpose in future jobs than entering the security sector. Why is a qualification in media studies more appealing? Is it sexier to study for four years and then work in a call centre rather than train as a security installer and start earning a decent wage?
For years we have been told that IT is the business to be in and there are indeed some people who have made a lot of money developing apps and software. But not everyone can sit in front of a computer every day and be an Internet billionaire, the country needs tradesmen.
Better careers guidance is important but the industry itself can do more. When recruiting new staff be more open to finding the right kind of person for the job rather than the best experienced and offer regular training as a perk rather than vouchers or gym memberships. You could always look back at your own careers and help someone along in the same way. For example many readers of PSI will have been apprentices and this is a great way to keep the industry alive.
One person who has done more than most in this regard is regular PSI contributor Simon Banks of CSL Dualcom, who recently picked up a BSIA Chairman's Award for his work on the 100 in 100 Apprenticeship initiative. A driving force behind the success of the initiative – which aims to place 100 security apprentices in just 100 days – Simon has been instrumental in its success, which has seen over 1800 young people placed in security careers, including installers, engineers, technicians, customer service personnel and locksmiths. Inspired by his own experiences as an apprentice, Simon believes that the continued recruitment of young people into the security industry is crucial to maintaining the industry's professionalism.
So rather than bemoan the lack of talent out there maybe we could all do something to create it, and bring a school leaver, apprentice, ex-military person, media studies drop-out or even a beautician into the security industry. Otherwise the future security talent pool is going to be extremely shallow.