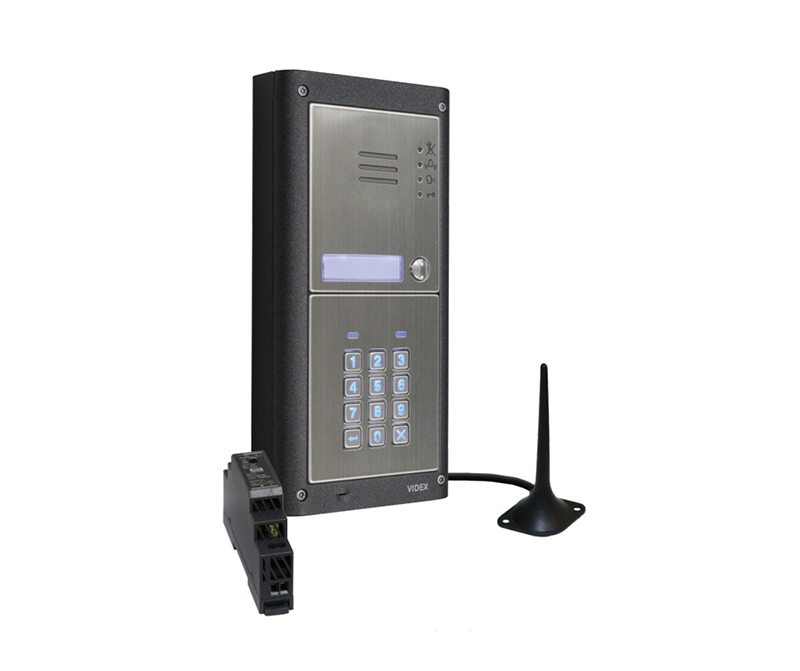 The Videx 4000 Series is a flexible modular audio call system capable of supporting up to 50 buttons. The kit supplied for testing housed contained two modules, a 4810/4G Intercom and a 4903 Keypad. A range of alternative keypad layouts are available including the 4903 which has a 12-button telephone style key layout. The intercom is designed for 4G networks but is also compatible with 2G and 3G networks.
The available finishes are gun-metal grey (shown) and stainless steel, with surface or flush mounting back-boxes. Optional rain shields are recently available.
Getting started
The front cover of the door unit is secured by four non-captive T20 security Torx screws. Two plastic hinge assemblies allow the front panel to be moved out from the rear housing to gain access to all connections and configuration links.
The included power supply is a rail mountable 100 to 240v AC input to 12v DC 1.25A unit, with output variable from 10.8 to 13.8v.
Programming of the 4903 module can be performed at a simple level via the keypad using a 6-digit Engineer code to gain access. This allows two codes to be entered to release the Relay 1 and 2 contacts. For more complex setup and management, the Videx GSMSK PC software is used. This is supplied on CD and / or memory stick, however care must be taken to follow the correct loading instructions for the USB driver and software as the supplied documentation included some legacy information that refers to alternative files that are also included. The instructions in document 66251720 V2.2 20/06/2022 identifies the correct process, although this document was not included on the CD or memory stick.
Instructions for "over the air" remote connection are provided for 4G linking of the software to the unit.
Alternatively, many of the programming commands can be sent to the unit using SMS commands.
With the unit unpowered, a nano sized SIM card should be fitted into the socket beneath a peel-off sticker just below the antenna connector. The supplied antenna has a magnetic base, 3 metre cable, and a secure right-angle wall-mounting bracket. The USB connector is at the lower left of this module for connection to the PC for initial setup.
An RS485 connection bus allows up to 8 devices to be connected to expand the system for additional proximity readers and keypads.
Two auxiliary inputs allow for "Push to Exit" button or auxiliary inputs.
For the full review see the June 2023 edition of PSI magazine here