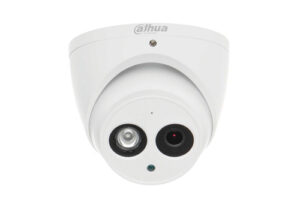 The HDW4431EMP is a 4MP "Eyeball" format camera with infrared support, IP67 ingress protection and IK10 vandal resistance. The camera supports Dahua's ePoE technology for extended connection distances over network cabling.
The 2.8mm lens on this model gives a viewing angle of 104°(H) x 58°(V); 3.6mm and 6mm lens options are available for narrower angle horizontal views of 83° and 58° respectively. A true Wide Dynamic Range of 120dB is stated.
Operational temperature range is given as -30°C to +60°C. The specification sheet provides DORI distances based on the camera's full resolution image.
Getting started
The camera is PoE powered with the option of a 12v input if required. DHCP is not enabled by default so the Dahua Configuration Tool can be used to identify the camera on the network and change its static address to match the user's subnet. First access of the camera requires a password to be set and this must also be entered into the Configuration Tool in order for any camera changes to take effect.
A 2.44MB Web Plugin is notified when first connecting via a browser and this loaded quickly and following a password input request showed the camera's live image.
Time and Date was initially set to Beijing (UTC +8) but was easily changed through the configuration menu.
For documentation beyond the Quick Start Guide you are directed to a website where the various tools and additional documentation can be downloaded. The more comprehensive manual is of a generic nature covering multiple models with differing features but should not be necessary for the majority of applications.
Operation
While the specification sheet notes Web viewing with IE, Chrome, Firefox and Safari, best results were obtained with IE11 and Safari, as these gave stream bandwidth and resolution figures and a wider range of quick Icons than the two (Snapshot and Audio) obtained with other browsers. Edge was similarly limited in features. Android and iOS phone and tablet systems were unable to display images but it was possible to connect to the settings menu screens with Android devices.
The IE and Safari browsers also gave a Digital Zoom, Triple Snapshot and Record, Live screen Icons; these icons were clustered at the top right above the Live window. To the bottom left, again only on the IE and Safari displays, are action buttons for Image Adjustment, Image display size, Full Screen, Aspect Ratio, Fluency and Rules Information (Enable / Disable).
Read the full product review in the October 2019 edition of PSI magazine