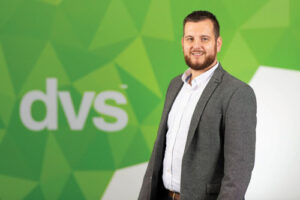 David Davies is Chief Technical Officer at distributor DVS and is also the alter ego of Daitech on the DVS YouTube channel. PSI caught up with him to talk about new technology and the trends in the market.
How's business?
We're going from strength to strength, growing our sales base which inevitably gives us a wider reach, which in turn Increases our sales revenue. Whilst everyone is talking about Brexit it doesn't seem to be affecting the security industry; from speaking to other people I think we're all suffering from the same demand creation that is out there. For me, it's a great industry to be part of at this time. As a company we've started to invest more to help shore up the parts of the business where historically and traditionally we weren't as strong but thanks to that investment we are becoming much better in those areas. And I think this is beginning to pay off with the increase in sales and customer base that we are experiencing.
What technology trends are you seeing in the market?
There is a very definite shift toward cloud-based systems, which could be anything from cloud-based access control to a host of AI verticals within the cloud.  There is a very sizeable push between an on-site hardware presence to a dedicated in-cloud solution or a hybrid of the two. So there's been a definitive push on that over the last six to twelve months and it seems that every single manufacturer or software provider that we are talking to is coming to us with a cloud solution. We do believe there will be big growth in that area as people embrace cloud-based systems and I'd say, from our point of view, there is plenty of interest in software as a service and the continued need for hardware on site.
Is there any technology on its way out?
Looking back, one technology I would have been confident on being on its way out by now would be analogue surveillance and actually if you look at traditional analogue I would say that it is indeed dead and buried. But HD analogue seems to be very stable and a large percentage of our customer base still uses it as a cost-based offering. So whilst most people might think that IP is the future and everybody is using it, I would disagree as a very large percentage of people are using HD analogue. Furthermore, manufacturers keep adding to the functions of the systems, so just when you think that they can no longer do any more with the equipment, they go and develop another feature thus growing the product portfolio and increasing its demand.
Read the full interview in the October 2019 edition of PSI magazine