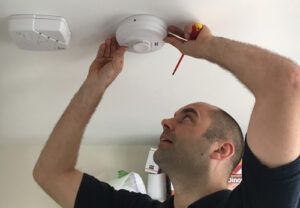 Plymouth Community Homes has begun a programme to replace their smoke alarms with Aico's 160e Series of alarms.  The alarms will be fitted in to all 15,000 properties over five years.
Plymouth Community Homes has installed Aico's mains powered smoke and, more recently, Carbon Monoxide (CO) alarms to protect tenants over the years.  The existing optical smoke and heat alarms are reaching the end of their lives and will be replaced with the 160e Series.
160e alarms are up to 18% slimmer than the previous 160RC model, whilst maintaining the same easi-fit footprint making it simple to upgrade. The alarms are compatible RadioLINK+ so this negates the need for a separate RadioLINK base, used with previous 160RC models, saving on installation time and costs.  RadioLINK+ allows alarms and accessories on the system to communicate with each other using Radio Frequency (RF) signals rather than hard wiring.
RadioLINK+ also allows for whole system data extraction, which Plymouth Community Homes intends to put to good use.  Information such as the number and location of alarms, number of tests carried out and RF signal strength between alarms can all be accessed securely from within or outside a property.  This information will be stored by Plymouth Community Homes on its asset register as part of the tenancy files.
Likewise, information from the mains powered battery back-up Carbon Monoxide (CO) alarms, the Ei262, installed in Plymouth Community Homes' properties is also being stored on the asset register.  Real time data is obtained from individual alarms through AudioLINK technology.