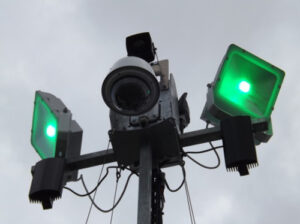 OnGarde have this week launched the Duo, designed to give security managers control over their security solutions. The Duo increases the options available for securing a site with the choice of LED floodlights or Infrared lights on a single OnGarde CCTV Rapid Deployment Tower.
Director of OnGarde, Mike Fleck, said: "When used in built-up areas there is a need to avoid light pollution, so the Infrared lights really come into their own. These lights consume less power and allow the CCTV Tower to stand alone on battery power for up to three days without the need for a mains connection. It's perfect for sites that close down at weekends."
Original LED Lights serve as a deterrent and double up as site lighting, reducing overall site running costs. LED lights also provide colour images at night that can help with the identification of suspects.
"We use green LED bulbs as they are kinder to the environment and do not attract insects at night, which is appreciated by people working outside daylight hours, and by those living nearby," added Mike.
The Home Office estimates that theft from construction sites costs £400m a year, and over 100,000 deliberate fires lead to 53 injuries and 2 deaths every week in England and Wales. Uninsured expenses, liquidated damages, business interruption, lost man hours and uncertainty compound the problem.
Deterrence is by far the most cost-effective approach to securing a site. OnGarde's UK monitoring centre also eliminates the need for manned guarding and avoids false alarms.