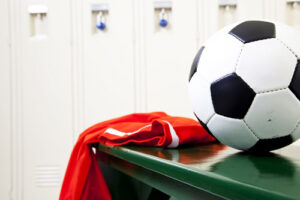 Access to the players' changing rooms and training facilities at Kettering Town Football Club is now being controlled by Grosvenor Technology's Sateon Pro.
The system was recommended to the Club by Sonic Security Services' Design Surveyor Jeremy Haynes. Access control has now been fitted on to players' doors at the Latimer Park football ground, restricting fan and media access to the changing facilities and training equipment.
It is reported that Sateon Pro could even help Kettering Town FC expand their revenue streams in the future. Adding access control to the training pitches would allow the Club to generate additional revenue by renting out facilities when not being used by the Club; and the use of a simple proximity card would mean no need for staff supervision or associated additional costs.
"We have the ability to integrate Sateon with Kettering's facilities management systems in the future," said Jeremy Haynes. "We can programme access rights for agreed pitch schedules or locations; and the Club would be able to charge users for specific timescales. Once the agreed finish time has been reached Sateon could notify management as well as turn off lights if they are the last players of the day, thus incorporating energy saving solutions."