ievo bio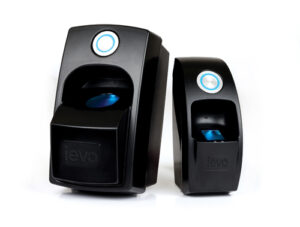 metric technology has been used alongside Paxton Net2 for door access control and Thinking Software's Rota Horizon solution to track employees' time and attendance throughout the premises of retailer Gear4music and to aid payroll.
14 ievo biometric readers were used in total, a combination of both the ultimate and micro for dual internal and external use. The ultimate fingerprint scanners were used in the warehouse and external doors where users may be exposed to certain environmental or occupational conditions for example dampness and/or dust and dirt. The micro fingerprint reader was used for internal doors, mainly on the offices and showroom. Paxton Net2 provides access levels to employees only after 5pm into the main showroom that is otherwise open to the general public.
Over 100 registered employees can scan in and out on any of the 14 biometric devices in order to log their attendance and Thinking Software's Rota Horizon is used to supply HR with scan login times for hours worked and breaks taken. An iPad is installed on the main door entrance, which links to the scanning logs so users can see who is on the premises at any one time.
"Installing all of these systems together was a very straight forward process. The only real challenge we faced was wiring some of the readers together, but with ievo  technical support on-hand, we quickly overcame the issue. Once the user's fingerprint data was taken using the ievo desktop registration readers, the system worked first time, which was important for the deadline we had to meet" Mark Illingworth, Managing Director, Robinsons Integrated Solutions.