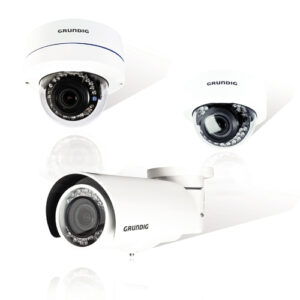 Grundig Security's new IP camera range includes compact, indoor and outdoor vandal-resistant domes, integrated bullet cameras and a 6MP Fisheye camera.
The indoor domes, outdoor vandal-resistant domes and integrated cameras have 2 and 3MP options. Features of the range include Quad Scan WDR, enabled by the Sony Exmor CMOS sensor, which enhances low light sensitivity and Dual Noise Reduction (DNR) to reduce image noise. Sensitivity is improved further with an option to run the cameras at 60FPS. The higher-spec camera models have Xarina digital signal processing (DSP), which enables analytics features, such facial detection.
All of the new IP cameras include IR LED illumination for night vision. The 2MP cameras have 3 to 10.5mm vari-focal lens. The 3MP models have a Tamron 3 to 9mm auto-focus zoom (AFZ) lens with P-Iris (an automatic 'precise iris' function), which increases image contrast, clarity, resolution and depth of field. The outdoor vandal domes are IK10, vandal-resistant rated and, along with the bullet cameras, are IP66 weather resistant-rated for challenging, outdoor environments.
The new Fisheye 360 panoramic view camera includes on-board "de-warping" software producing up to two corrected video stream views and SD/SDHC card slots, PoE and ONVIF Profile S integration are standard across the range.