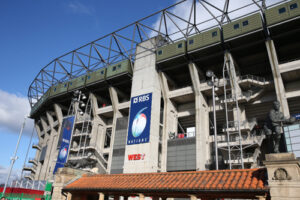 Traka is helping keep the home of English Rugby secure ahead of the Rugby World Cup with the news that as part of major refurbishment work in preparation for the games, the RFU has installed Traka key management systems at Twickenham Stadium.
The venue is undergoing development ready to invite rugby fans from all over the world this year. Part of that refurbishment work will include investment in the latest access control and locking technology. To protect that investment, the RFU wanted to ensure that an effective key management system was put in place.
Previously, Twickenham Stadium relied on a paper-based system to sign keys in and out, but this method resulted in complications, with staff unable to locate keys easily. It also had cost implications, with several master keys having to be replaced over a number of years. But the most serious consequence was the safety and security of the building. Due to lost keys, staff were duplicating them, making it hard to identify who had keys to which area of the vast facility.
The seven manually-operated key boxes that were spread across the grounds have now been replaced with two Traka L-Series. The system allows automatic tracking of who has taken which key, and more importantly when it has been returned. The software also allows the security team to grant access rights to users to individual keys or keysets, so even though they may be able to access the key cabinet, they can only remove the keys to areas they are authorised to be in.
The key cabinets are also used by the other businesses that are based at Twickenham Stadium. The catering and hospitality teams can request access to certain keys for staff members. This means that RFU's partners have flexible access to areas they need, whilst still maintaining visibility for the RFU on who is accessing what area.
Phil Parker, Head of Security at RFU said: "Traka systems are invaluable to a premise like Twickenham Stadium. With so many businesses, people and areas to oversee, having visibility of where keys are and who has used them makes individuals accountable. This in turn makes everyone more responsible. However, it is the ability to restrict access to areas that is really important. There are lots of business-critical areas within the building, for instance areas with high voltage power supplies. Being able to restrict access to a very small number of people electronically, means we can remove the risk of human error, so an unauthorised person cannot enter a dangerous area.
"The whole security team is really impressed with the system, they can see first-hand how Traka can be utilised, and how it is helping us centrally manage the distribution of our keys. Our role is to keep the home of English rugby safe, and The L-Series is helping us do that."