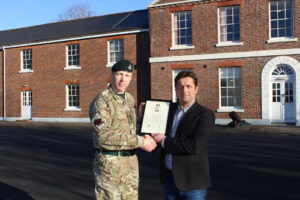 Marsh Barton Security Services (MBSS) has been awarded the Defence Employer Recognition Scheme Bronze Award for its support and commitment towards UK Defence and members of the Armed Forces Community including Reservists.
The Employer Recognition Scheme rewards UK employer organisations which pledge, demonstrate and advocate support to the Defence community and align their values and activities with the Armed Forces Covenant, a public, voluntary pledge to help organisations express the ways in which they can provide support to Defence.
Marsh Barton Security Services is one of three Exeter-based businesses to have achieved the Bronze Award, and the firm has committed to ongoing support of the Armed Forces and Reservists, with a view to increasing its status to the Silver Award later this year.
To achieve the Silver status, MBSS will need to prove that they employ at least one member of the Armed Forces Community, such as a Reservist, Service Leaver or Cadet Force Adult Volunteer, and actively communicate and demonstrate a positive stance towards that employment via established HR policies and procedures. They must also support any employed Reservists, or Cadet Force Adult Volunteers, by showing flexibility to plan for and allow them to fulfil their annual training and mobilisation commitments.
Managing Director of MBSS and Ex-Royal Marine, Marcus Di-Vincenzo said: "I wholeheartedly support the Armed Forces community and am therefore very proud to have been recognised with this Award. We have several Reservists in our team and having been in the Royal Marines, I would actively encourage my work force to consider signing up. Our next aim is to go for the Silver Award to demonstrate our ongoing commitment, which we hope to do later this year."
Pictured (L-R) are Lieutenant Colonel Tom Harper MBE, Commanding Officer 6 Rifles presenting the Defence Employer Recognition Scheme Bronze Award to MBSS Managing Director, Marcus Di-Vincenzo.