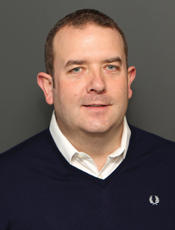 Here we talk to Brett Ennals of Cento about recruitment in the fire and security sectors and the skills shortage we are experiencing at the moment.
Brett Ennals completed an engineering apprenticeship with the RAF before moving into fire and security engineering. After eleven years on the call out rota, Brett moved into the sales arena selling systems and products, culminating in a sales management position in Honeywell.
As one of the founding members of Cento, Fire and Security Jobs & Lift and Escalator Jobs, Brett started his career in recruitment in 2005 and has built a career specialising in engineering, sales and board level positions within the building services industry.
PSI magazine caught up with Brett at the company's Loughborough office to find out more about the state of play regarding fire and security sector recruitment.
How have the last twelve months been for you?
We have been very busy over the last year and have seen a big change in the number of enquiries that have come in. In fact, we have been steadily busy during the whole economic downturn, through word of mouth and repeat business, but in the last twelve months we have seen a rise in the business from customers we didn't previously know. The demand for finding new installers, engineers or sales people is definitely growing.
In 2013 you wrote a blog about a skills shortage in the industry. Is this shortage still there?
Unfortunately it is and it is increasing. The biggest shortage in the market is for good sales people. While we do a lot of work finding engineers for companies, in our experience most installers, manufacturers and vendors are looking for a sales person. The biggest request we see is for a sales person that can hit the ground running and bring in half a million pounds worth of orders to grow the business, but this person does not exist in any high quantity.
There certainly are good sales people in the industry, but these are already either working for a large company or have set up their own businesses. This means that they have a good source of commission so they are not going to walk away from this to help grow a company for someone else. It's like asking a Premier League player to join a team in the Football Conference in order to get them promoted all the way back up the Premier League!
So the biggest shortage in the market at the moment is for good sales people with engineers being the second most requested role we are asked to fill. The number of engineering jobs is increasing as the older generation retires leaving a gap.
There is a school of thought that the older installers are the ones still putting in analogue whilst the new breed coming in are all IP savvy. Is that what you are seeing?
The new people coming into the market are often IT experienced, but without the security knowledge they can struggle to find employment because the demand is for fully trained installers who are experienced and are able to install any product that is required. What we would advise is that employers need to relax their expectations, think outside the box and look for the rising star rather than someone who ticks all of the obvious boxes. Someone who is a keen worker and meets 80% of your criteria, with the right training, could be the best person for the job rather than someone who has the experience but no desire to improve. Those employers who are adamant they know what they want often miss out because their criteria is too limited.
There are many good people coming into the industry who just need training in order to move forward. For example there are a number of ex-military personnel who have varied skills to offer employers. All they need is for someone to give them a break. However since the economic downturn some companies expect staff to deliver results immediately without training or in-depth knowledge of the sector. If time is invested in candidates with the right attitude to learn and progress, employees will get capable installers and engineers.
Read the full interview in the August edition of PSI magazine.