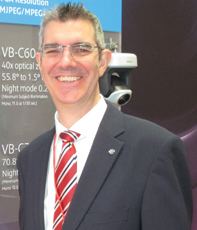 Canon's acquisition of Milestone caused quite a stir in the security sector recently. PSI caught up with Julian Rutland, visual communication products and solutions director for Canon Europe to find out more about the deal and where it leaves the previously 'vendor agnostic' VMS company in terms of having an owner with its own range of cameras.
How will the acquisition of Milestone change the way Canon works?
The acquisition is one factor in Canon's overall strategy to transform its network camera offering. Together, Canon and Milestone will become a stronger player by combining the exceptional imaging technology that Canon is known for, with Milestone's world leading VMS software. I've been asked how this will impact Canon's existing customers and partners; the answer is, they can be sure that the support for their products will not be affected and the combination of Canon and Milestone will bring new products and solutions in the future that are shaped and influenced by each company's market experience and expertise.
The main question that has arisen from the deal is whether Milestone will promote Canon cameras rather than being 'vendor agnostic'. Can you comment on this?
It is our aim that Milestone will continue to recommend what it believes is the best solution for each customer. In the same way that we'll continue to partner with other VMS providers, Milestone will continue to operate as a standalone company within the Canon Group. Both sides will maintain their existing partnership strategy, and we are implementing strict processes to respect the privacy of all of our partners.
The acquisition further improves Canon's standing in the market, so what can we expect to see from you in the future?
As mentioned, Canon is still relatively new to this market, but recent announcements around partnerships have been welcomed by the industry and have served as a real boost of confidence. The video surveillance industry is an area that Canon is committed to, and we're working hard to ensure that we'll be able to deliver value-added features, improved technical support and advanced levels of testing through our strategic partnerships. The Milestone acquisition affirms our commitment to this market and by working together with our partners, we're finding new ways to innovate and stay ahead of the game. All the while, we are maintaining a strong focus on quality and ease of integration with leading software providers to complement our network camera hardware.