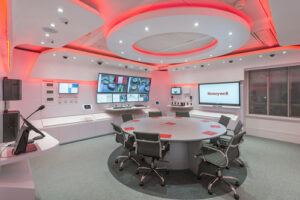 Over the course of an evening and five guided tours, Honeywell officially opened its London Demo Suite recently.
Situated in the heart of London, near to St Paul's Underground Station, Honeywell's latest demonstration suite is something different from the usual offering. The concept for the suite was first discussed almost two years ago as part Honeywell's Channel Partner and Specifier Programmes aimed at facilitating a closer working relationship between installers, end users and specifiers. The outcomes of the discussion were simple, what was required was a way to demonstrate how integration really works.
According to Daniel Wan of Honeywell: "The original idea behind having a demo room in London was in response to our customers' desire for us to provide a facility to enable them to get closer to end users and specifiers. What they wanted was a demo suite which allowed them to showcase our capabilities as a leading manufacturer of integrated solutions to their customers."
For a company the size of Honeywell this point is especially relevant given that it has a combined fire and security business, offering a host of potential opportunities for their channel partners. Therefore it was essential that the company had somewhere that customers could show the benefits of integrated security and safety solutions rather than bombard customers with technical specs.
"The ability to demonstrate the capabilities of integrated solutions was really the crux of why we invested in the suite," says Daniel. "Our customers
understand the various technologies we have developed thanks to the training and projects they have done with us, but what they really wanted was a method for them to be able to physically show this to their own customers. However, we had to ensure that this was done in a way that reflected the end user's environment and not a stand at a trade show."
The company already has one established 'Centre of Excellence' in Runcorn which has been used to demo technology and run training courses for a number of years. However as good as this facility has proven to be, it was clear from the research that something similar was needed in the South to service the large customer base in that area. Investing in a suite in London means that it will be easier for a large portion of Honeywell's customer base to be able to access the facilities.