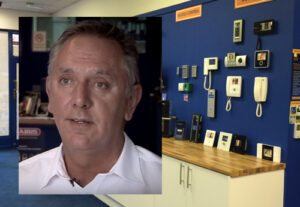 Terry Roffey is the Managing Director at Brook Security in Maidstone, Kent. With 43 years' experience in security industry (apprentice through to MD of £20 million PLC Ambassador Security Group (87-95), Terry has also been the Assistant Chairman NSI NACOSS Gold South East Region (Region 5) for ten years and six months as Chairman.
Do you use a distributor or buy direct from manufacturers?
Our supply chain is a mix of direct purchase from manufacturers and through distribution. When we take on a new product we work with the manufacturer on training and marketing. Once established we will probably use a distributer as it is normally a one-stop shop. But we will continue to communicate with the manufacturer on design of larger systems and after sales technical support.
 Is third party accreditation beneficial to your company?
Changes in industry and commerce over the years has seen a massive reduction in head count. So the traditional routes to market in our industry of relationships with Crime Prevention Officers and Insurance Surveyors has ended. Third party accreditation for us, we would hope, would set us apart from the thousands of other companies or one-man bands; as it is difficult to achieve and also to maintain through the two annual inspection audits each year covering our offices and procedures and in the standard of work in the field. The problem I see today is with fewer people in positions of influence, they are too busy to know the difference between an NSI Gold accredited installer, an NSI Silver company or an SSAIB installer or any other body. So it becomes a bit generic. The difference needs to be re-established in my view so installers have their markets.
What would be a typical project for you?
We do not have a typical project or customer. Our market is diverse from small intruder alarm system in a bungalow to an integrated system in a castle or large London store.  A mix of private residential clients (including some celebrities and high net worth people) and commercial clients across Kent, London and the South East. Our solutions are bespoke depending on lifestyle and insurance requirements. So the variety is what keeps things fresh for me even after all this time.
Are there any common requests from customers that give you problems?
I believe that our industry is "undervalued" with a lack of perceived value by the client.  When products and service are seen as a "commodity" and are all the same it simply comes down to price.  Some customers are paying £85.00 for 24/7 engineering support (including planned maintenance visit) and will moan if they have to wait an hour for an engineer. In the IT industry they will be charging 10 times our rate and will probably take a day to send an engineer.
Do you think there is a skills shortage in the industry? Any trouble recruiting?
When I started work in 1972 as an apprentice I had a pick of jobs I could have done. There were "jobs for life then" such as Banking and Insurance which changed irreversibly in the 90s. I think many businesses and industries suffer from short-termism and investment in staff, technology and machinery can be seen as unnecessary for now. This attitude has created a skills shortage and resulted in fewer engineers and higher wages.  Pat Allen of Abel Alarms and Simon Banks of CSL have set about changing this in our industry and are doing a fantastic job on getting apprentices back in a pipe line of future engineers.
What is the security industry's biggest myth?
I think the biggest industry myth is "We are recession proof". Over five decades I have seen businesses struggle, sell and fail as things have got too tough. A personal frustration for me is when a business goes into receivership, doesn't pay staff and suppliers and is resurrected as a "Phoenix" to compete with you again.
Read the full interview in the December 2015 edition of PSI magazine.