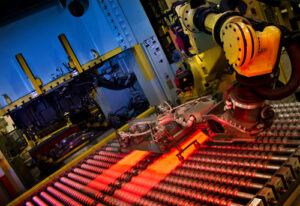 Advantex Network Solutions has won a five-figure contract to improve on-site security at a Sunderland car components' manufacturer. The Gateshead firm has secured the work to supply and install a new IP CCTV surveillance system at Unipres (UK), which produces car-body structural parts for Honda and Renault at its 127,000m2 factory on Cherry Blossom Way.
The move will improve the monitoring and security of critical areas such as production and robot assembly lines, along with the safety of 1100 people employed at the site. The deal includes a support package covering repair and maintenance, and annual health checks for all hardware and software.
Advantex will also be providing remote technical support via its help desk and has specifically built in features to enable the whole system to be quickly and easily upgraded to accommodate future expansion.
Overall, site access improvements and the better utilisation of security resources and managerial time provided by the new CCTV technology will deliver significant savings and efficiencies for Unipres.