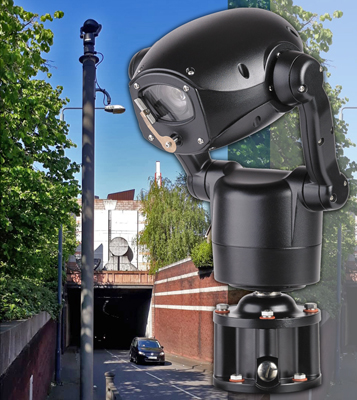 When Cubic Transportation Systems and Transport for London identified that the Limehouse Link Tunnel in London's East End would benefit from an upgraded traffic safety monitoring system, they opted for Predator Ultra HD cameras from 360 Vision Technology.
The Limehouse Link Tunnel opened for use in 1993 stretching for a little over a mile under London's East End. Travelling along the A1203 from The Highway to Canary Wharf, it takes vehicles under the Limehouse Basin, Limekiln Dock and Dundee Wharf, then curves north-east under Westferry Road to emerge near the West India Quay DLR station.
For a massively busy tunnel like the Limehouse Link, safety is paramount. Speed limits are set at 30mph, and Transport for London traffic management teams constantly monitor the live video feeds from cameras sited strategically along its course to ensure traffic flows smoothly and any incidents can be acted upon swiftly and safely.
The camera system in the Limehouse Link Tunnel is maintained by Cubic Transportation Systems. Recently, it was decided that the existing cameras in the Limehouse Link Tunnel were in need of an upgrade. Cubic Senior Field Services Manager Neil Ashford explains.
"The older cameras that were being used in the tunnel had become obsolete," he says. "This was due to camera part obsolescence fault levels increasing, and critical areas of tunnel coverage becoming more challenging to maintain with adequate CCTV coverage. Roadside cameras need to be tough and reliable, so we needed a ruggedised model that could withstand the rigours of constant use in that environment."
Cubic had used Predator Ultra HD cameras from 360 Vision Technology on an earlier tunnel project and this experience convinced Neil Ashford, and Cubic, that they'd be up to the task.
One challenge the Limehouse Link Tunnel upgrade project faced was transmission: how best to ensure the 1080p HD images captured by the cameras could be sent to the TfL control centres. Fortunately, in addition to its direct IP connection options, the Predator cameras feature a 12-pin connection in the base of each unit, allowing the new replacement cameras to be connected directly to the existing cable infrastructure of the old camera system.
"Being able to install the new Predator cameras without making any changes to the local camera infrastructure was a great advantage in reducing installation time and cost of the project," Neil Ashford says.
A total of 56 Predator Ultra 30:1 HD cameras are now in active use in the Limehouse Link Tunnel. The cameras are monitored at a variety of locations, including the primary Transport for London Network Management Control Centre (NMCC).