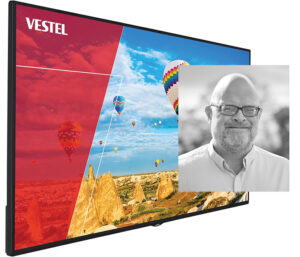 We talk to Chris Godfrey of ADI about why the distributor added Professional Audio Visual (Pro AV) products to its range of services and find out why you should too.
In an article in 2021 we reported that the distributor ADI was adding AV products to its portfolio following successes overseas. Recently we caught up with Chris Godfrey, EMEA Senior Category Manager Professional AV at ADI, to find out why security installers should also be thinking about adding AV to their list of services.
How is the AV side of the business going so far in the UK?
As a global organisation, we identified Residential and Pro AV as growth categories for ourselves and our customers, and we're focused on expanding our offerings across AV. We're very excited to build upon our successes of 2021 and grow in 2022, as we continue to expand the number of products, suppliers and the breadth of support we offer installers. The new relationships we built in 2021 are already delivering results, and as our sales teams work with our suppliers, our knowledge and expertise in this area are ever-growing. In 2022, we'll invest further in AV and expand our teams across sales, technical and category management, to provide the expertise that will take us to the next level.
Why do you think that those security installers that do not currently cover AV should do so? Is there a lot of potential in the market?
We see significant opportunity in AV for security installers to expand their businesses. Specifically, there is a lot of opportunity in displays, which are gaining ground in applications previously covered by monitors, and also opportunities presented by audio applications (Commercial Audio, PA/VA, Audio over IP). AV is such a big growth area, whether it's a project focusing on a commercial property, schools, hospitality, retail environment, and more. At ADI, we're discovering each day that more installers who once focused on one aspect of security are now broadening their projects to include Pro AV.
For those who are unsure of what you mean by AV, what are the typical products/applications?
AV is an umbrella term for a vast array of products and services. We focus on key areas we believe will resonate with our security customers and will also be attractive to AV customers. There is a lot of overlap with applications for security and AV, especially in retail, hospitality, etc. Whether it's a video wall or digital signage in a shopping complex, digital whiteboards and audio systems in schools, conference systems in corporate businesses, to smart home audio speaker systems in homes, Pro AV is now found in every aspect of our lives.
Read the full review in the April 2022 edition of PSI magazine