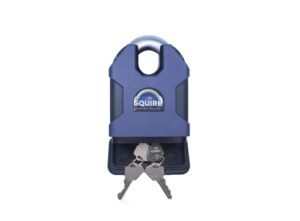 We've tested a number of padlocks over the years in PSI as installers are occasionally asked to recommend simple or temporary solutions for various security applications, but we've always tried to focus on locks with an added twist. For example we reviewed a Bluetooth lock and one for people with reduced dexterity, however none have come close to the security offered by the huge SS100 from Squire.
The seriously heavy duty unit is the only padlock ever to achieve The Loss Prevention Certification Board (LPCB) SR4 standard.
The unit
The SS100 is a dual cylinder padlock with open and closed shackle versions at 100mm wide. It features a solid steel lock body that is capable of a tensile pull of over 24 tonnes (independently tested).
The SS100 is the latest addition to the Squire Stronghold padlock range, which comes in various sizes and shackle variants, and includes solid hardened steel lock body, electrophoretic anti-corrosion finish, hardened boron alloy steel shackle, anti-drill protection and high corrosion resistance for harsh environments.
The Stronghold brand offers added reassurance that the padlocks themselves have been tested in-house, as proof they can withstand the harshest of attack – most of the range has been CEN tested and approved.
Performance
The version reviewed was the closed shackle option (hence the CS designation).
Opening and securing the lock is carried out via the use of two keys. Both need to be inserted before the lock can be accessed. The unit features a 'storm proof' rubberised cover at the base of the lock which should be removed to allow key insertion.
Either one of the two keys can be used first and turned to 90° before the second key is inserted and also turned. This will allow the 20mm thick Boron alloy shackle to be removed from the unit. Both keys need to be at the same 90° to allow the shackle to be re-inserted and then is locked in place by turning and removing each key (in any order).
Read the full review in the September 2019 edition of PSI magazine