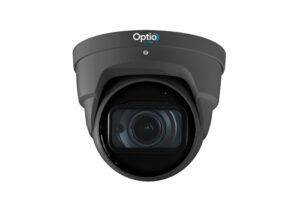 The OPA4ED28V12IRG camera is an IP67 rated, 4 Megapixel (2560H x 1440V) Eyeball style analogue camera with a varifocal 2.7mm to 12mm lens. It consists of an aluminium body and mount available in a dark grey or white finish. Optio products form a subset of the Vista range.
Getting started
The camera has a single composite feed that splits off into three cables. One is for power supply at 12v DC ±30%. The second is a BNC video output connection and the third is for a settings switch for the analogue format. This dual switch has a captive screw-on top to provide environmental protection. The four options available are CVI, AHD, CVBS or TVI format.
The camera globe is held in a wall or ceiling mountable frame with a single Allen screw locking its position in the frame. A removable bung in the side of the frame allows for the cable to be fed out if surface mounted. Alternatively, an optional camera mount OPJB4G can be used; this has two screw capped side and one rear conduit apertures and is supplied with fixing screws and an Allen key.
Information is available through the Norbain Vista website with the camera documentation available for download once the relevant product and bracket options are selected. Alternatively, for smart devices a QR code on the supplied documentation can be used to download the manuals and datasheets.
Operation
The camera is supplied with the DIP switch set to CVBS output allowing it to be viewed on any basic analogue monitor or system. These switches are actively monitored so can be changed while the camera is operational and after a few seconds the mode changes and confirmation of the new mode is momentarily displayed in the centre of the screen.
No lens control is possible when in CVBS mode as this format does not support coaxial control signalling. The control protocols used are HDCVI 3.0 or HDCCTV 2.0. There is no conventional or legacy wired telemetry control connection. A compatible DVR allows the camera's on-screen menu to be selected and the full range of camera settings to be managed.
Read the full review in the November 2019 edition of PSI magazine