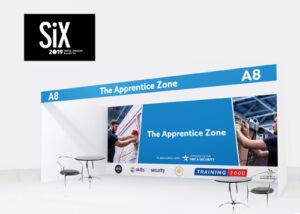 In a late change to the seminar programme at the SiX event taking place in Manchester at EventCity on 5-6th November there will be now an additional focus on apprenticeships, training and employers in the security industry.
On Day One of the show, the new Managing Director of Skills for Security, David Scott, will provide an update on what is involved in the fire and security apprenticeship programme (what the apprentices learner over the three-year programme), which colleges & training providers offer the programme, how the programme is delivered (block release, day release and online) and how much the apprenticeship will cost the employer.
Be sure to visit the Apprentice Zone!
The Apprentice Zone (Stand A8) will provide installers with an opportunity to speak to experts from training providers: Skills for Security, Hopwood Hall College and Training 2000. All three are based in the North West and are looking to partner with installer companies to provide the FESS Trailblazer qualification. Furthermore, Skills for Security has access to a national network of training providers, who can support installers wherever they are based in the UK. Come along to get the latest information and find out more about the course itself, training schedules, funding and much more!
Register to attend SiX here