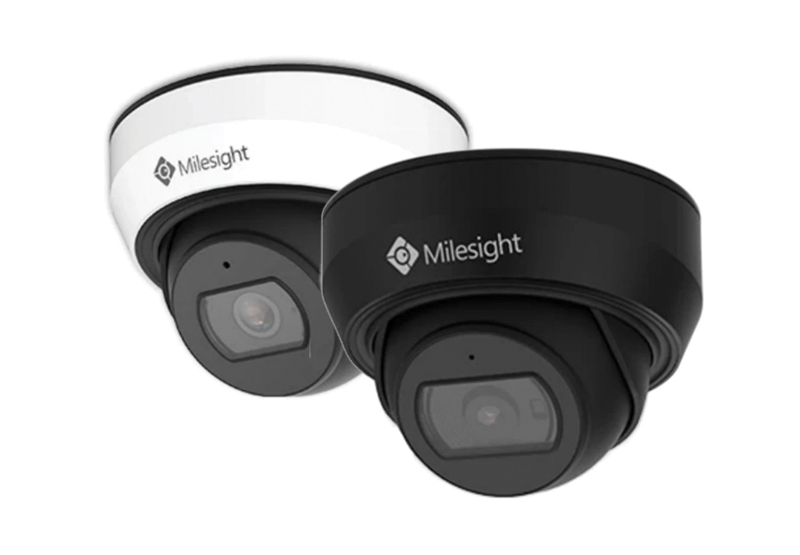 This IP67 and IK10 rated motorized 5MP mini dome boasts a number of features including Smart IR, which combines high beam and low beam to adjust IR intensity to suit different lighting conditions, plus functions such as HLC (highlight compensation) and defog. It has a multi-interface for easier installation, a built-in microphone, PoE and DC12v.
Getting started
Installation instructions are provided in the foldout pamphlet, including quick installation steps for mounting and connecting the camera as well as setup instructions for using Milesight's smart tools to assign an IP address and assigning an IP address via the web browser. The installation steps are well laid out and picture based which makes for easier reading, but the IP assigning section could be explained better, especially when assigning using the web browser.
When the online user manual is accessed via the QR code things become much clearer with a lot more information detailing the process and providing product details for their range of cameras.
When the CMS and smart tools where downloaded they did not fit onto a laptop screen so the camera was set up via the web browser. Once in the camera settings setup is straight forward and is very user-friendly with easy to navigate menus. It will also integrate with most VMS software and work on most NVRs as long as they support the ONVIF protocol.
Performance
The camera could struggle to pick out detail if fitted facing out a window or an entrance where there is typically a lot of light.
The motorised lens functions are reasonably good from 2.8mm to 8.4mm which is a 3x zoom. The picture and image quality is good when light levels are low or when fitted externally.
Pros: The camera is versatile and due to its ONVIF protocol it will integrated with most software's and NVRs available in the UK. The image quality for the camera performs as expected, and when it is not drown by background light, it produces a good, clear image.
The camera is also fitted with a hinge on the rear base connected to the lens which allows for easy access when the camera is mounted. It allows the camera to be opened, exposing the connection points without having part of the camera suspended by a wire or being loose increasing the risk of it being damaged. It's a great feature.
Read the full review in the September 2021 edition of PSI magazine