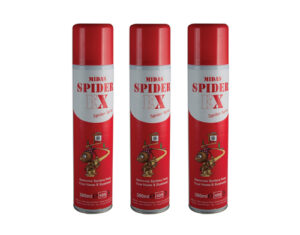 SpiderEx is an aerosol spray formulated to help remove spiders and reduce nesting in almost any area it is sprayed. Originally developed for the CCTV and security industry to stop spiders nesting around cameras, housings and alarm sensors, its clear, odourless coating stops spiders and other crawling insects from making a nuisance of themselves.
The product can be used indoors and outdoors on any smooth surface and is available from UK supplier QED.
In use
Supplied in a 300ml spray can the product is used in a similar way as any other insect repellent.
We first removed all signs of spiders from around cameras, an alarm bell box and a PIR light before applying the spray.
After shaking the can first, the area was sprayed (avoiding the camera lens).  Due to the nature of a spray it is important that for best results the product is applied on still days to avoid blowback or poor coverage due to wind dispersal. The instructions state that a 1-second burst of spray will account for 1g of insecticide so each container holds plenty of applications.
The product sets as a clear lacquer over the area and it is recommended that, if unsure, you should check for colour fastness first. Reapplication is suggested "as necessary".
The spray has the distinctive odour of an insect repellent and should be used in well ventilated areas as you would expect with such a product.
 Results
The area around the PIR light was quite heavily covered with cobwebs and as soon as the SpiderEx was sprayed around the unit a couple of spiders emerged and showed an instant reaction to the product.
After one month of application there was still no sign of any spider activity on any of the units even after heavy rain in week three. No new cobwebs had been formed and the shiny coating left by the spray was still visible.
Read the full review in the November 2019 edition of PSI magazine