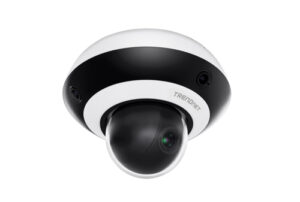 This is a compact multi-camera assembly consisting of three fixed cameras arranged around a controllable PTZ camera. It is promoted as a "multi-sensor HD camera" featuring a 2MP PTZ 4x optical zoom and three 2MP fixed lens units to provide 360° of coverage. IR illuminators provide night vision up to 10 metres. PoE Plus connectivity allows simplified cabling and reduced installation cost.
Getting started
The camera can be powered from a 12-volt supply or by PoE+. This must be a 30W capable switch port or PoE injector as the camera has a demand of up to 24W. 3.5mm jack sockets are available for audio in and output. The unit runs reasonably warm with a back panel temperature of 51.8°C after an hour's operation, however, the unit is specified for an operational range of -10° to +50°C.
Once connected to a network, the camera has DHCP enabled by default so can be readily found within its subnet or a discovery tool "Camera Utility" is available from the TRENDnet website. The discovery tool can then be used to call a web-browser to link to the camera.
Once powered up the camera goes through a short initialisation phase then activates its PTZ motors for position referencing. During this stage the PTZ pans left until it hits its hard end stop and the camera tilts fully up, following this it is driven to a datum position.
It is important to carefully consider the mounting position as the three fixed cameras with their 128.5° horizontal fields of view have no adjustment possible, so any specific areas of interest such as cash tills or doorways should be appropriately aligned before securing in place. The 350° maximum rotation of the PTZ must also be considered to ensure that the end stops do not impede movement through a key area of interest.
[sam_ad id=15 codes='false']

Operation
At first connection using the browser you are forced to enter an administrator password of between 8 and 16 characters using at least two character types; an indicator below the entry field turns green and states "Strong" if a suitably secure password is entered. Once entered the browser requests a plug-in download to allow viewing of the images. For this the browser must be closed. Once re opened and the "add-on" is run the four images show immediately.
Time shows by default as US format and as Pacific US and Canada GMT-8 but is easily set to UK time using the Advanced menu. NTP was found to be set by default and this setting can also be readily changed.
A card slot in the base allows a Micro SD card of up to 256GB to be fitted for in-device event or real-time storage. A reset switch allows all settings to be returned to factory defaults when activated at power-up.
ONVIF profiles S & G are implemented so the video stream can be recorded, viewed and the PTZ camera controlled with third-party NVRs.
Read the full review in the December 2019 edition of PSI magazine