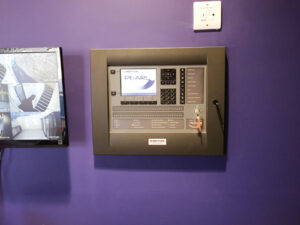 For some lucky university students, gone are the days when they would reside in ramshackle accommodation in the less salubrious parts of towns and cities. Damside in Lancaster is a £3m five-storey studio development with 79 apartments designed with stylish, modern interiors. Developers Miaccom partnered with Lancaster University Student Union (LUSU) to manage and let the studios. Prior to work beginning on the refurbishment of the building, Westmorland Fire and Security was asked to tender for the design and build of a life safety system.
Westmorland Fire and Security's Sales Manager, Mark Johnson, says, "We recommended using a Notifier by Honeywell system throughout and the system we chose is based around its Pearl intelligent addressable control panel."
The Pearl control panel is linked to Notifier SMART2 multi-sensors located in each room that use a combination of heat and optical smoke sensing elements that are managed by embedded software. The Damside installation has been configured over a single wiring infrastructure. Not only did this save time and money, it means that in an emergency the fire and rescue service can see at a glance which vents and windows are open, as well as the source of the original activation. This clear indication can rapidly reduce search times in the event of a fire or fault, while pre-alarm warnings can also be provided, giving time to investigate prior to a full alarm situation being reached.