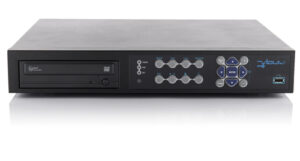 Security distributor Videcon has announced the launch the VIO2AHD as a "cost-effective" solution for installers using analogue high definition (AHD).
The new AHD system, offers all the same functionality of the traditional analogue VIO2 unit, with the added benefit of being able to support real-time 1080p video over coax using compatible AHD cameras, with a list of bullets and internal/external dome cameras in stock through Videcon.
Additional flexibility is offered through backwards compatibility with traditional analogue cameras and, through an additional network switch, can also work with IP cameras at 1080p resolution.
The VIO2AHD offers mobile viewing via peer-to-peer networking, allowing installers to connect the CCTV system to smartphones and tablets, by scanning the QR code on the unit into the mobile app, connecting through the server straight to the NVR.
The VIO2AHD offers 4, 8 and 16 channel options, with a maximum storage capacity of 8TB on the 16 channel unit.