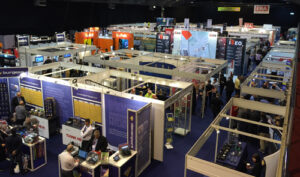 The Master Locksmiths Association (MLA) has reported the highest ever attendance at its trade exhibition for the locksmithing and physical security industry. The bi-annual event, which was staged earlier this month at the International Centre in Telford, had a footfall of 1,536 visitors – 24% up on the previous expo in 2013.
In addition, 398 staff from almost 100 exhibitors from all over the world, including China, Russia and New Zealand were also at the event to showcase security products and services, as well as having a chance to discuss industry trends and take part in training courses.
The attendance figures, provided by third party visitor registration company, QRS, show the MLA Expo, which was being held for the 18th time, was the biggest MLA Expo since it was first held more than 30 years ago.
MLA development director Dr Steffan George said: "We were delighted with the number of exhibitors, offering a wide variety of products and services. With the show being held every two years, we know visitors look forward to it, and a lot attend in order to take advantage of the great show deals available. Hopefully the number attending is also a sign that the economy is starting to pick up."
Training at this year's event included safe lock picking, lock decoding and picking, consumer regs, marketing, vehicle locks & cloning, electronics, access control and abrasive wheel certification.