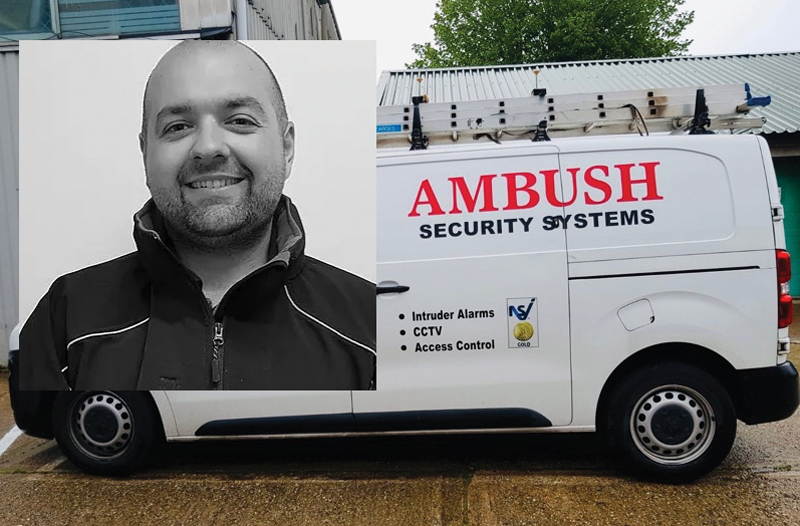 Sam Rodway is the Technical Sales Director at Ambush Security Systems in Uxbridge. Areas of expertise for the NSI Gold approved business include alarms, CCTV and access control.
What would be a typical project for you?
A typical project for us varies from small to large domestics or commercial properties. Each site will require different levels of security based on their location or insurance requirements. Being a London based company gives us the opportunity to work on a different variation of properties across the city and the surrounding counties.
Is third party accreditation beneficial?
For us third party accreditation is confirmation of our high standards. What I do feel is lacking is the standing that gives us out in the real world. Unless a customer has high value contents in their premises our NSI accreditation means very little to the common man or woman. Greater backing from insurance companies or more advertising amongst the general public would make the accreditation worth more.
What is the best thing about working in this industry?
Every site and client is unique and will have different requirements, and with that brings a new challenge! We are always looking to install the latest technology available to us to fulfil the client's requests. For me personally I take great satisfaction knowing that we have secured someone's home, especially after a bad experience, knowing that our proposal has been expertly installed by one of our dedicated members of the team. Nothing makes me more proud when a client emails or phones after the works are complete thanking us so they can once again feel safe in their home or knowing that their place of work is now secure, and the peace of mind having the on-going service and support that we offer.

Do you have any 'go to' technology?
For intruder we use both Pyronix and Texecom systems, each having their own benefits. Pyronix systems are perfect for domestic customers in particular; we fit a lot of Enforcer systems on smaller residential properties as their user friendly menus and app make them perfect for everyday use. Whereas the Texecom systems come in to their own for larger installations with the wireless Ricochet technology, discreet wireless range and high quality flush keypads. Their cloud services also enable us to remotely service and diagnose faults on monitored systems reducing engineer time on site and any inconvenience for the client. For CCTV we use a wide selection of the Dahua and Hikvision range, with the latest technology being the full colour range which has been a big hit with our clients! The ability to identify the colour of clothing or a vehicle in the dark of night is a must, not only for the client but for the local authority. Not surprisingly we have seen a high demand for this technology. For access control and entry phone systems we use Paxton and CAME BPT, which we have used since I started in the industry, their product reliability and technical support is by far the best available.
Read the full interview in the June 2021 edition of PSI magazine