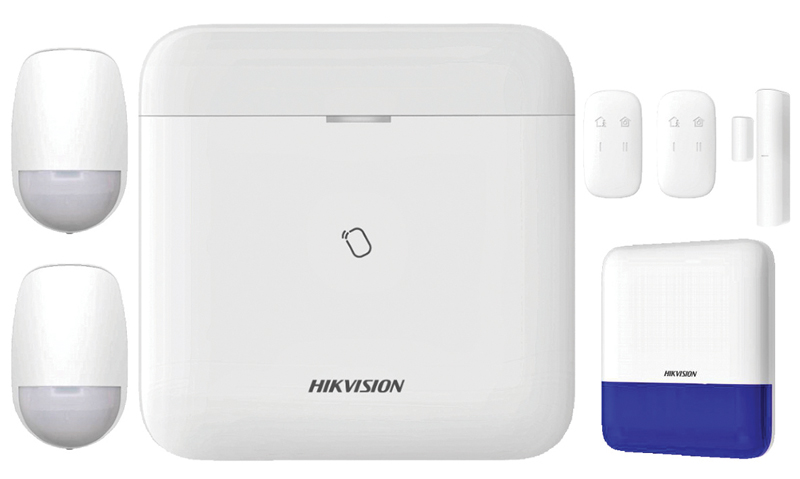 The AX Pro can be purchased as a kit or individual components. The reviewed system was a DS-PWA96-Kit1-WE kit with the seven parts as listed. It is a wireless Grade 2 alarm system that can be used stand-alone or integrated into a management system. Additional modules are available to link to home automation products and systems. The DS-PWA96-M-WE panel supports up to 32 areas and 96 zones. This is the only part of the kit that must be mains powered (100 – 240v AC 50/60Hz 0.3A Max.) and this is supported by a 4520mAh lithium battery for up to 12 hours backup.
Getting started
The various components are only supplied with a "User Manual" sheet that gives limited information in multiple languages; however, a QR code gives access to the latest full manuals from the Hikvision website.
The main panel is supplied with a mains power lead, 3 tags and 4 screws with wall plugs. Its removable rear panel is used to mount it to the wall and the panel then slides onto this and can be secured by two captive crosshead screws. At the rear of the panel are the 2 pole mains connector, an RJ45 network connector, 2 x SIM sockets and a pair of 4 pole connectors with one marked as COM but these do not appear to be referenced in the manuals.
Initial setup is performed by the installer using the Hik-ProConnect app. This can be downloaded from the usual Android and iOS stores or accessed via the QR codes on the panel's box. It gives access to all of the configuration options and can be used to manage multiple sites. Individual system users will use the Hik-Connect app that has a more limited set of functionalities. A handover process is performed using the installer software that ensures that the installer cannot make changes to the system without the owner's permission.
In addition to the mounting screws, adhesive pads are provided for a number of the detectors, however, their use as a fixing method would void Grade 2 standard.
Set up options
The installer app allows devices to be added by either scanning the QR code on the device or entering its reference details. Its configuration settings can then be accessed and set. While the panel does support a web server, it appears you must set the initial connection using the app and then use those credentials to log into the device browser. The documentation does not appear to provide any means to simply use a browser for configuration. There is a convoluted setup process that is not always helped by the documentation; the two-stage installation and user app approach can be frustrating but with regular use would be manageable. While the app does give some useful support videos these are open channel so can be interrupted by unannounced adverts and annoying promotional banners.
Read the full interview in the June 2021 edition of PSI magazine