Mick James is the Managing Director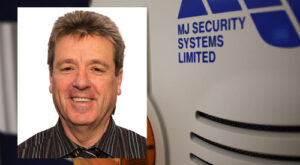 of MJ Security Systems in Houghton Regis, Bedfordshire. With 38 years' experience in the security industry under his belt, Mick lists areas of expertise for the NSI Gold company as intruder alarms, access control, door entry systems and CCTV solutions.
Do you use a distributor or buy direct from manufacturers?
We use both.  Over the last 30 years we have built excellent relationships with our business partners.  Our ethos from the beginning has  always been to  install products that are quality and  have proven reliability and we keep to the brands we know and which have good support.  Our engineers  receive training as new products evolve which means they are comfortable and confident with the products they are installing  There is absolutely no point in installing cheap alternatives which result in callouts and expensive engineering time – it is not cost effective in the long term and does not enhance reputation.  Our working partners, have been, and are with us for the long term and if we have any problems we know they will do the utmost to help us work through to get to a solution.
Is third party accreditation beneficial to your company?
It is absolutely essential.  When we started M J Security Systems in 1985 becoming an NSCIA (now NSI) approved installer was our number one priority and crucial to our long term business plan and objectives for the market we wished to target.  Insurance companies are normally insistent upon it for commercial properties. It provides our clients with the assurance that our installations adhere to stringent industry standards. This is obviously necessary for the commercial installations but for the domestic clients, who maybe get confused with various quotations, this can be a clear differentation and reassurance that they will not be abandoned should the company cease to exist or trade.
What would be a typical project for you?
We cover a variety of installations.  However, we do specialise in multi-site colleges and schools, large commercial premises requiring CCTV, access control systems and intruder alarm. These jobs require careful project management working alongside other contractors and they often run over several months. We have a diverse range of clients from small industrial units to prestigious 5-star  hotels. Notwithstanding this, we are  also very busy with domestic customers for intruder alarms, outside security lighting and door entry systems – particularly important with an aging population living alone.
Do you think there is a skills shortage in the industry? Any trouble recruiting installers?
Yes and yes.  When I was a lad one of the greatest opportunities for youngsters was an apprenticeship if you didn't want to go to University.  I left school at 15 and took an electrical apprenticeship which my Dad got for me and who came to my interview.  I do believe strongly in academic qualifications whether at A levels or degree standard.  However, I also believe that this is not for everyone and therefore there should be the opportunity to acquire training, confidence and personal development via an apprenticeship.  Historically we used the Work Experience Programme, funded by the Government very effectively and trained several engineers who have made successful careers in the business.  However, we as many other small businesses do not always have the capacity or resource without financial help from the Government to commit to these programmes.
During recessionary periods, the administrative burden of taking on youngsters can be very prohibitive. I think this has resulted in the growth of the security industry but with a shortage in skill set available. The security sector also needs to up sell itself as a being in the forefront of technology with great opportunities for development  – it  is not perceived to be as 'sexy' as IT or Web design etc. – yet there is as much demand and potential for a great career. Training and growing your own talent base is very important and we are presently looking at taking on further apprenticeships.
Read the full interview in the July edition of PSI magazine