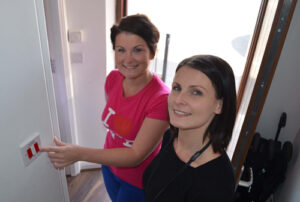 The Parkside Phase of the Limestone Road regeneration project is a scheme to transform an historically volatile interface area of North Belfast. Smoke and heat alarms from Aico's Ei160RC Series and Ei261ENRC CO alarms were selected by the consultant and contractor for this phase of the development.
Each property has been fitted with five Aico alarms, hard wired together for maximum tenant protection and controlled through the use of a single wall mounted switch.  Three optical smoke alarms are located in the main habitable areas and escape routes and one heat alarm in the kitchen.
The CO alarm is located adjacent to the boiler in each house.
Newington Housing Association's Operation Manager, Anthony Kerr said, "The control switch was a key benefit as residents can test all the alarms safely from one point; it's a truly user friendly device."  With all the alarms hard wired together, if one alarm on the system is triggered, all other alarms in the same property sound.  This ensures the alarm is heard throughout the property, providing the earliest warning.
Pic: Tenant Geraldine McKee and Newington Housing Association Housing Officer Margaret Duffy