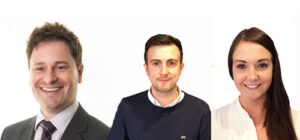 NW Systems has hired five new members of staff to boost the group's installation and digital marketing capabilities as the IP video specialist looks set to exceed its own 20 percent growth target this year.
Luke Oliver takes up the new post of Projects Manager, working alongside NW Systems' Technical Manager Greg Innes. Luke will look after logistics, health and safety, project administration and client liaison for all major security installation projects.
Greg and Luke are also supported by an enlarged installation team after David Croft and Chris Kimber were both hired as Installation Engineer and Assistant Engineer respectively.
The sales and marketing team at NW Systems' Wirral-based headquarters was further strengthened by the appointment of Paul Sandford as Digital Marketing Executive and Bethanne Pugh as Sales & Marketing Executive.
Frank Crouwel, Managing Director, NW Systems Group summed up: "Following record results in 2014, it's also been a great first half of 2015 for us. Our investments are currently focused on growing the security systems integration part of the group, where we've seen particularly strong demand. Our aim is to continue to build capacity and capabilities in that area of the business.
"In addition, we are growing our digital marketing team to ensure NetworkWebcams remains the leading online supplier of IP video products in the UK. We are hiring at every level so this is about building capabilities as well as capacity in key growth areas of the business."
 Pictured are Bethanne, Paul and Luke