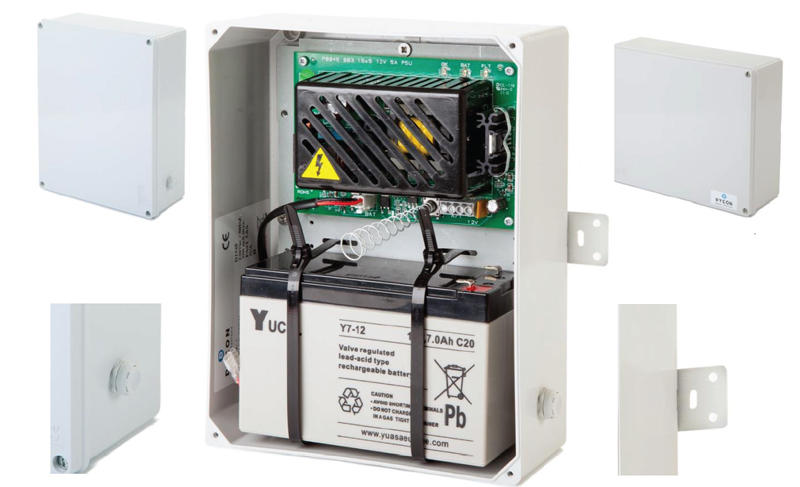 Dycon Power Solutions has released the IP65-W Series, a range of 26 x IP65-rated, weatherproof power supplies for the security, fire and building management systems markets.
With an increasing global demand for security and monitoring equipment to be used in external locations, installers and specifiers now need to consider how best to power these devices locally and safely and to satisfy this demand, Dycon Power Solutions has created its IP-W Series.
The new IP65-W Series consists of 26 different power configurations that include voltage outputs of 12VDC, 24VDCand 24VAC with power outputs from 0.5A to 10A, all available with or without battery charging. The range also includes two units fitted with a 165mm piece of standard DIN-rail. The 'IP65-W' housing is constructed from a thermo-resistant ABS material and is impact-resistant to IK07/8, making it suitable for use in most external locations.
Each IP65-W unit is fitted with Dycon's 2mm steel backplate, this has been ready- prepared to accept the majority of Dycon's power supply modules so installers can now choose the correct power system for the job rather than have to compromise to get moisture and temperature protection. This backplate has been pre-drilled and tapped to accept standard Dycon power modules and ancillaries' footprints making swap-outs and upgrades easier and quicker.
Rear fixings brackets allow for either vertical or horizontal mounting and remove the need to drill holes into the housing thus compromising its integrity. Alternatively, the housing can be fixed from the inside, this requires drilling through the marked locations with any 20 mm drill. Two x 20 mm IP65 cable glands are supplied, these can be fitted on any of the sides. Battery charging models are all supplied with a water-proof pressure safety valve to safely vent any gases produced during the charging process or by faulty batteries.