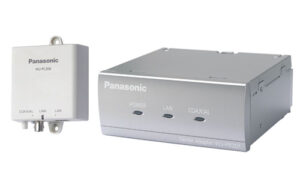 Panasonic has introduced a coaxial converter which allows integrators to replace analogue camera systems with network cameras using the existing coaxial-LAN cable infrastructure.
The system uses a camera side unit (WJ-PC200) and receiver side unit (WJ-PR201 (1-channel), WJ-PR204 (4-channel)) to reduce the set up cost and space required for the installation of an IP camera network.
The WJ-PC200 is a third smaller than the model it replaces, meaning it's often possible to install it within an existing external camera housing. The WJ-PR201/204 is half the size of the previous receiver unit. Four cameras can be added per channel of the receiver, allowing up to 16 cameras on a rack. An additional benefit of the system is that cameras can be installed remotely over greater distances than is usually achievable using LAN cables. Using the coaxial system with an AC adapter, it is possible to extend the cable distance to two kilometers.
Gerard Figols, Product Marketing Manager for Panasonic Security Solutions, said: "The coaxial converter allows installers to construct IP-based systems, using the latest camera products, without the cost of rewiring entire buildings. The addition of a PoE+ hub means it's possible to supply power to the cameras too."